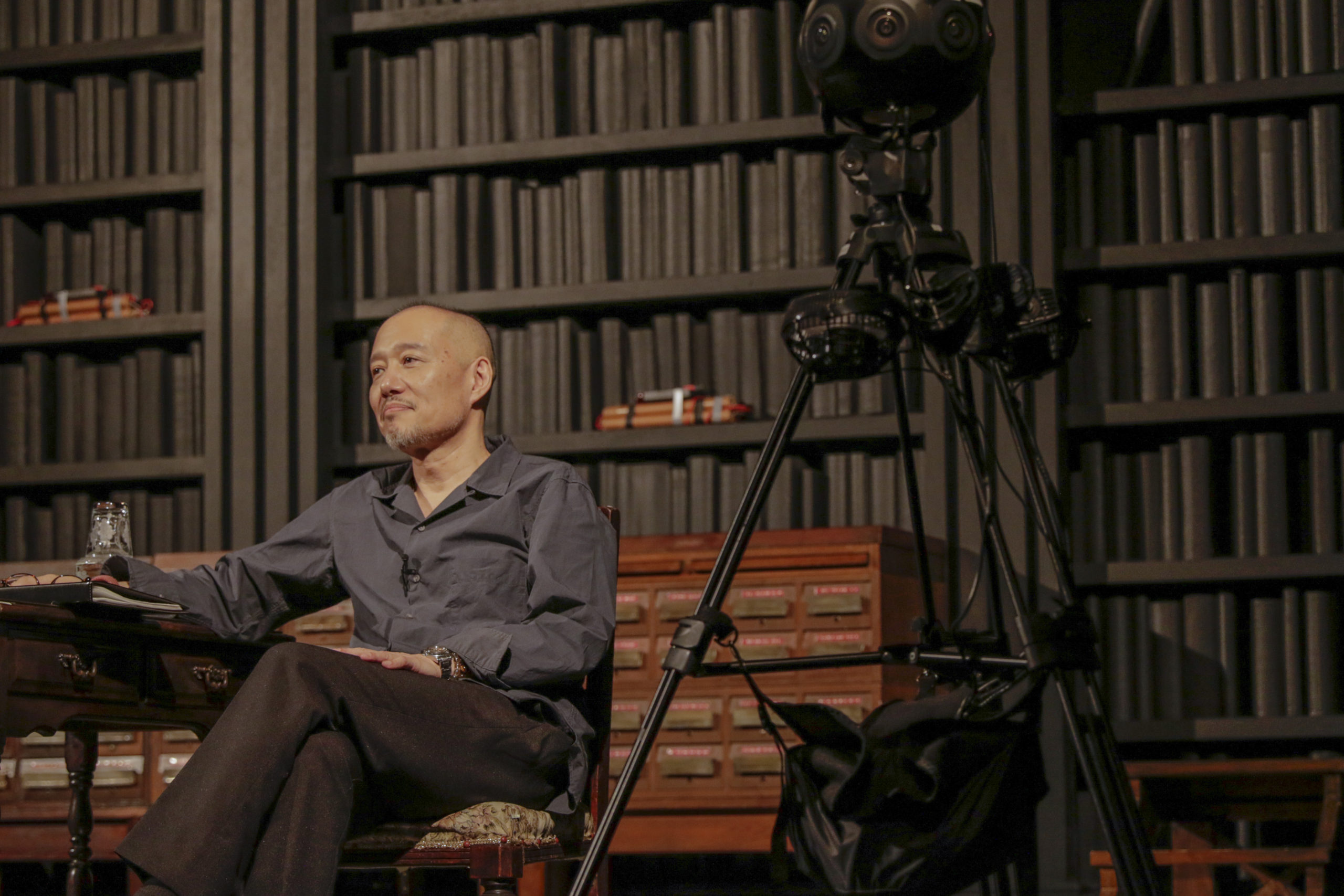 In what some are calling today's "with-corona reality," many people are changing their lifestyles and some companies are pivoting from office-based to remote working practices, while for their part Japan's thousands of theater folk — including performers, producers, directors, writers and the rest — are pursuing an urgent and perhaps even existential quest for new ways of engaging with audiences.

Among the early fruits of this movement is Theatre A/way, an exciting initiative by the rising young Tokyo troupe The Gorch Brothers, who are set to stage their works on the opened-up back of a truck they'll drive from place to place, including to towns and villages where contemporary performing arts have likely never been seen before.

To get the project off to a flying start, the company held a showcase performance for the media on June 20. Titled "Tokimeki Labyrinth" ("Maze of Throbbing"), this solo production featured male actor Keizo Nagashima in the role of a borderline crazed high-school girl in casual clothes detailing with machine-gun delivery her convoluted real and/or fantasized love life.

Running for around 30 minutes in the open air, the way the show obviously went down so well points to a promising journey ahead for this 21st-century return to the days of traveling players whose arrival in far-flung places often became the spark for local festivities.

Speaking afterward, Tatsuya Ito, the company's president, said, "As our young staff discussed what, if any, kind of theater activity they could do under today's social-distancing conditions, the main thing they resolved was to deliver live performances to audiences instead of online streaming. Then that decision led to this mobile, open-air way of performing."

In addition, Ito says that using a truck "quite literally as a vehicle for our art," means The Gorch Brothers can perform without putting audiences at risk in confined auditoriums — while allowing them to reach every corner of the country "like in the old days of picture-card storytellers (kamishibai)." And when the epidemic is over, he says, "this may even remain our way of operating."

Meanwhile, Takeshi Eguchi, CEO of the theater production company CAT Produce, is another unbowed dramatist eager to talk about its innovative VR (virtual reality) project that is among other exciting ideas emerging in this new reality.

Speaking in his office in Shibuya, central Tokyo, he says, "Since April 1, we have had to cancel 230 performances. However, we had booked the DDD Aoyama Cross Theater till the beginning of August, so we held remote meetings to discuss how to use it in these circumstances.

"Then I remembered that our hit program 'Defiled' has a cast of just two — and they are always well apart. So I thought I could do something with that."

Premiered in 2000, the work by U.S. playwright Lee Kalcheim is a tense, conversational exchange between a young anti-computer librarian named Harry and a veteran cop called Brian. It centers around Harry's decision to barricade himself in his library and his threat to dynamite the building if plans to digitize his beloved card catalog are carried out. As the police negotiator, Brian tries various ways to calm him down and get him to capitulate. Consequently, though they relate closely on the phone, the actors are never physically close to each other.  

Since it premiered "Defiled" in Japan with sold-out performances in 2001, CAT Produce has rerun it in 2004 and 2017 at different-sized theaters and with different casts, all the while to great reviews.

This time though, in a fine statement of artistic support in these troubled times, Eguchi wasn't content to just revisit those successes. Instead, he has enlisted 19 renowned actors, many of whom have not been able to perform for months, to stage the play at the DDD theater with different casts every day for a month from July 1.

"We are presenting a simplified, reading version of 'Defiled' in two different ways, both as a live theater performance and as online VR theater," Eguchi says.

"In the DDD venue, we are taking the utmost care to do it safely, and we're only selling tickets for 50 of its 180 seats," he adds, explaining that they are adhering strictly to COVID-19 guidelines issued by The Association of Public Theaters and Halls in Japan on ensuring 2-meter distancing in all circumstances to reduce the risk of contagion.

In fact, he says, that is also part of the reason for rotating the casts, as well as for hiring three different staff teams to handle the lighting, sound, front office and so on.

As for rehearsals, Eguchi says that's a whole different ball game from usual as well.

"I realized we had to have a whole 'new normal' for those, too," he says. "Typically, everyone gathers together for about a month, but that is definitely impossible now."

Fortunately for him, though, in the course of his research into online theater he stumbled across a specialist in VR technology.

"Previously, I had no interest in online theater," he says, "but once I was introduced to the VR system, I thought it could create something close to a live performance experience."

Now, as CAT Produce's VR theater system has evolved, technical staff capture the reading performance with numerous VR cameras and viewers (online audience members) buy a (¥3,500) ticket to access the (Blinky) distribution platform and watch the play on their smartphones and/or tablets. Alternatively, by using a VR headset or glasses, they can watch it in 3-D.

"I decided to fill 50 seats with audience members because the actors' motivation is so different when they perform in front of real people," Eguchi explains. "It also allows our guests to enjoy being in a theater, while VR viewers can switch at will from a front-row viewpoint to a wide-angle one, which makes the experience quite different from passively watching normal online streaming.

"After all," he adds, "in a theater you would naturally follow your favorite actor's movement. Now you can do that in this VR format."

Then, predicting that viewing quality will be much improved when 5G comes along soon, this dramatist who is clearly so keen to adapt and survive excitedly declares his aim to "stage" four VR productions a year — both musicals and straight plays — continuously after the epidemic departs.

"I hesitated to do remote working at first, but it's actually effective and enjoyable. So I think COVID-19 may be a real boost for the revival of stagnating Japan, because we need to create new industries now."


And that's not even including other developments in the arts that this "with-corona reality" is yet sure to foster.

"Defiled" runs till Aug. 2 at the DDD Aoyama Cross Theater, a 5-min. walk from Omotesando subway station. It will then run Aug. 8–10 at an as yet unspecified venue in Osaka. For more details, visit http://stagegate-vr.jp/.