Kinoshita Kabuki brings its groundbreaking "Kanjincho" back home in triumph
Kinoshita Kabuki's masterful take on classic kabuki's "Kanjincho" returns to the stage for the first time since its success in 2018's Japonismes extravaganza in Paris.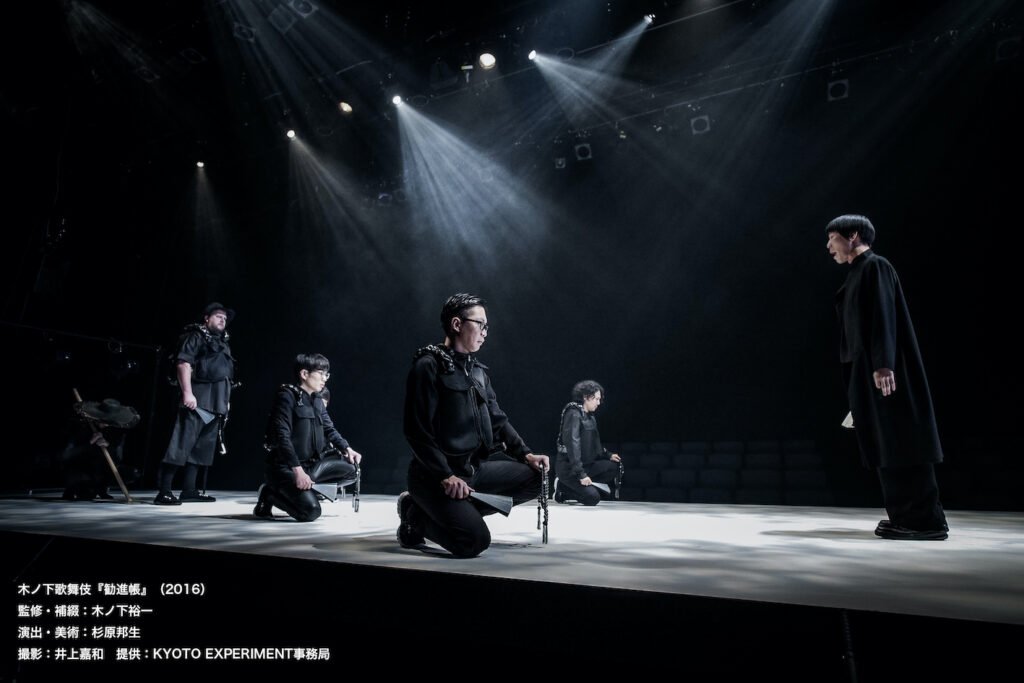 The Kinoshita Kabuki company's renowned original pieces combining innovation and authentic kabuki style have gained many followers of all ages among both lovers of traditional arts and contemporary theatre.

Since he founded the company in Kyoto in 2006, now 38-year-old Yuichi Kinoshita has collaborated with several young contemporary theatre directors, including Kunio Sugihara, Junnosuke Tada and Yukinosuke Itoi, while himself working as a dramaturg advising them how to decode the original kabuki works.

In this case the eponymous original is one of the genre's most popular plays. Centered on a fleeing aristocrat, Minamoto no Yoshitsune, his loyal servant Benkei and four retainers who arrive at a checkpoint manned by Togashi no Saemon, a guard ordered to detain them, the drama revolves around both sides' mutual deceptions. With Benkei's quick wit and loyalty set against Togashi's sharp intuition and basic humanity, the result is by turns thrilling, tense and hilarious as everyone's fates take unforeseen turns.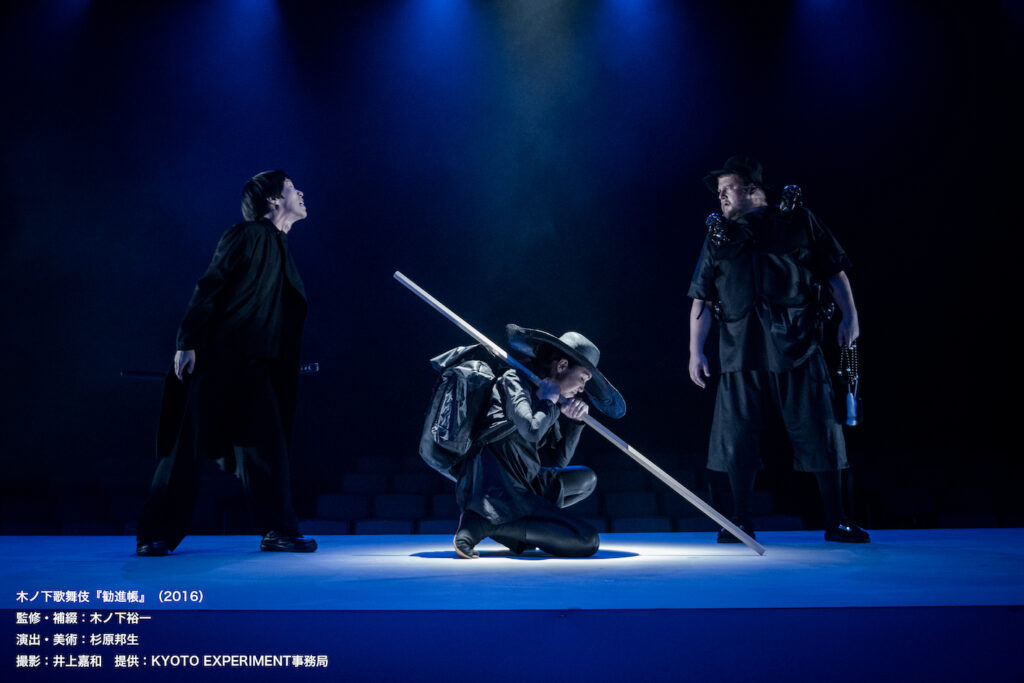 For this production that premiered in 2010, its director and set designer, Kunio Sugihara, uses a narrow white bridge-runway in the middle of the auditorium as the performance area, and has actors from rival sides all wearing black modern clothes but coming from opposite ends. With their often dance-like movements, and most of the lines in modern Japanese, the resulting excitement and spectacle is very different from traditional kabuki with its archaic language, kimonos and exaggerated make-up.

In fact in this work Kinoshita has taken a fresh look at kabuki's famed tale of samurai loyalty and repurposed it as an investigation of wider "border crossing" issues.

Hence to try and pass the checkpoint, he highlights how Yoshitsune's party must also break down or transcend borders created by conventional ideas and rules. Sometimes, too, the master-servant relationship is reversed, or relations between the two opposing sides are redrawn. In addition, by casting a large, imposing American actor (Lee Stark aka Lee the 5th) as Benkei, and having Yoshitsune played by a transgender-woman, Noemi Takayama, extra borders of race and gender are intentionally created on stage.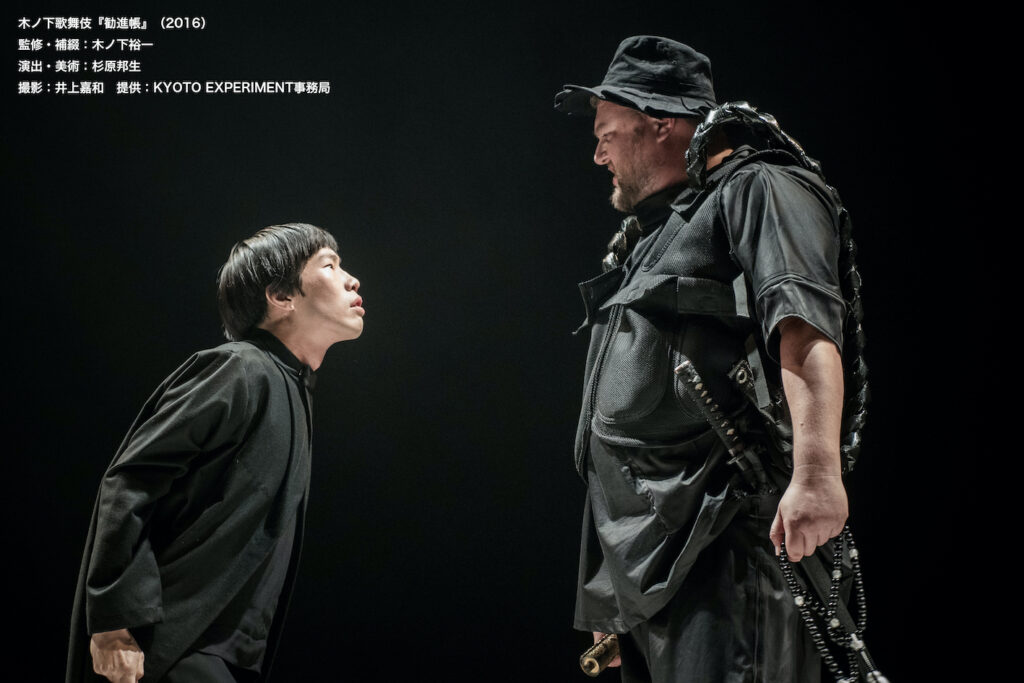 When it featured along with visual and performing arts, movies, crafts and food in the prestigious Japonismes international cultural event in Paris in 2018, Kinoshita Kabuki's "Kanjincho" was a headliner widely acclaimed for its new expansive approach to kabuki.
 
So now, five years on, it will be enthralling to see how audiences react to this border-breaking (or -bending) drama in today's world in which it appears to be ever more relevant.
 
"Kanjincho" runs Sept. 1–24 at Tokyo Metropolitan Theater (TMeT) in Ikebukuro. It then tours to Okinawa, Nagano, Okayama, Yamaguchi, Ibaraki and Kyoto until November.
 
A related talk by Yuichi Kinoshita and Robert Campbell, a scholar of Japanese Literature, will be held Sept. 23 from 17:00 in Theatre East at TMeT.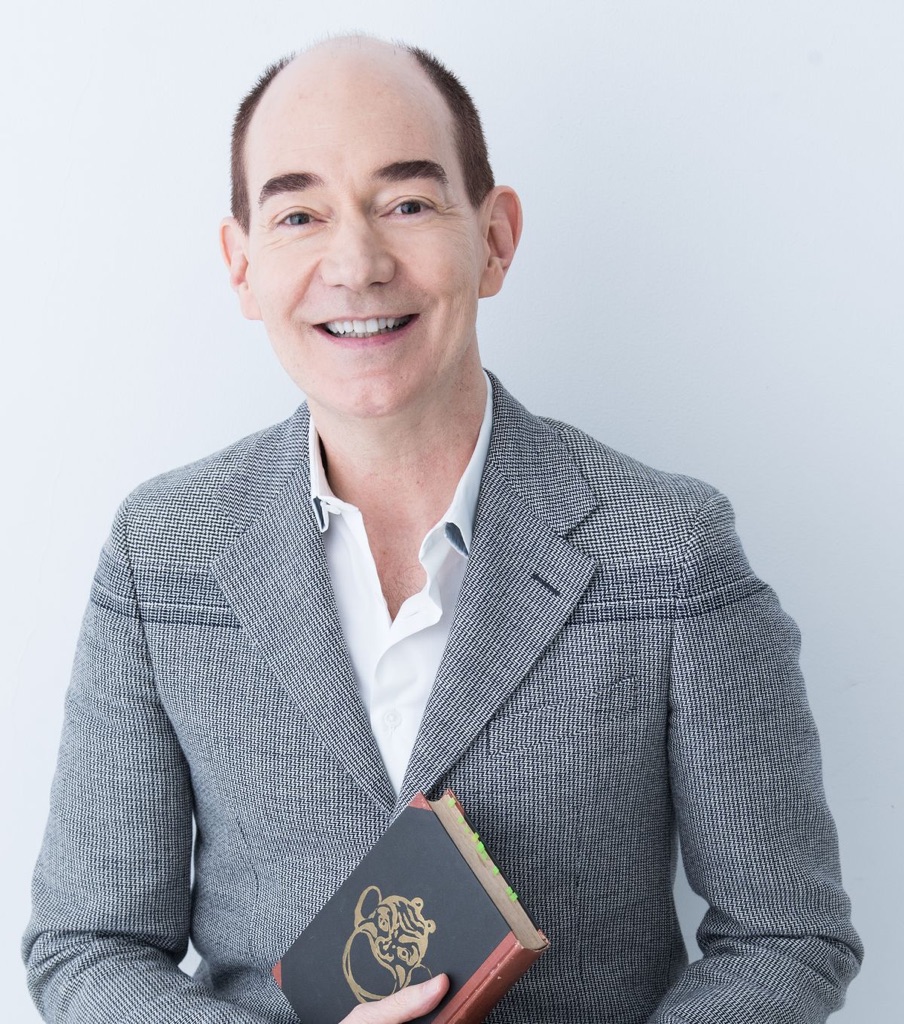 Robert Campbell
For details, visit https://www.geigeki.jp/performance/theater331/ or https://kinoshita-kabuki.org/.