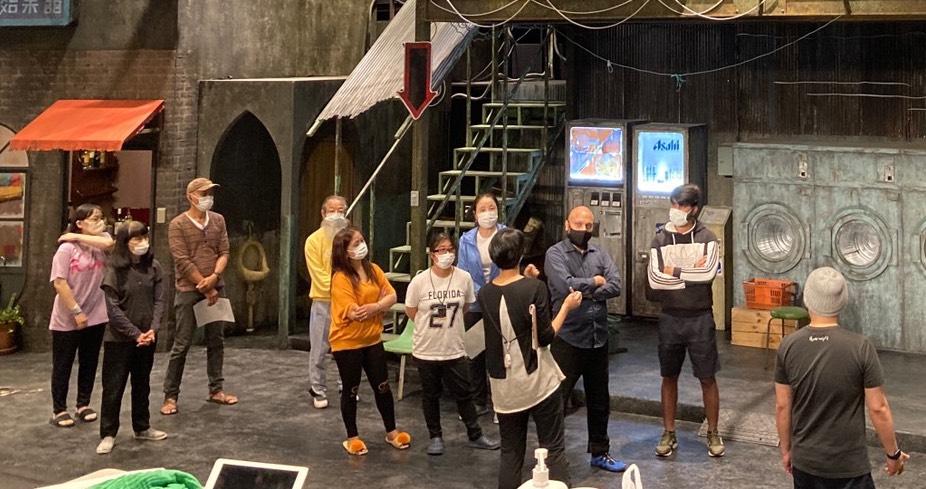 "Niji-mu Machi" ("Rainbow Town"), a new play by Kuro Tanino, the globe-trotting playwright, director and founder of the Tokyo-based Niwagekidan Penino drama company, opens on June 6 in the medium studio at Kanagawa Arts Theatre (KAAT) in Yokohama.
Unusually, in this work depicting fictional scenes from the cosmopolitan area around KAAT, including the city's famous Chinatown, 44-year-old Tanino has invited a number of Japanese, Chinese and Filipino amateur actors to join the cast along with six professional Japanese including himself, Tamae Ando, Kiyofumi Kaneko, Susumu Ogata, Momomi Shimada and Yoko Ran.
That idea began to take shape when Keishi Nagatsuka, KAAT's new artistic director, invited Tanino to stage a work in the opening series of his debut season and the pair decided to let the public watch the rehearsals through a window from outside.
Though people were not so interested at first, the rehearsals gradually became a lively topic of conversation that attracted more and more people to visit KAAT's rehearsal studio.
Q:  Why did you decide to make the play with non-professional actors?
Tanino: Last spring I was devastated when I had a play cancelled due to the pandemic and I was at a loss what to do.
Then I had to start preparing this new work for KAAT, and after discussing it with the theatre's staff we decided to contact ordinary people in the area. I was unable to meet them face to face, so I used Zoom and interviewed a schoolteacher, a restaurant owner, a chef, the head priest of a temple and an undertaker among others. While I was talking to those people, I regained my will to create theatre and that enthusiasm finally made this play happen.
Q: How have the rehearsals been with foreign non-professional actors?
T: I realized that those amateur actors have great natural forces of creation. So when I work with them I adopt the same approach as with bonsai growing.
Basically, living creatures have a primitive energy to live, so if I create satisfactory conditions for those amateur actors through my directions they will flourish. However, just as if I do too much trimming and bending of bonsai they won't be great trees, it would be the same if I didn't pay a high regard to the non-professional actors' natural powers.
Actually, many theatre directors tend to create quite artificial aesthetics on their stage, but I tend to think they become obstructions when doing theatre with non-professional actors.
Q: What has been your main takeaway from this project?
T: We did a walking tour with the actors of several places around KAAT that were described in this play.
I used to write plays in bars and restaurants while chatting with people there. I've also gained lots of inspiration from my travelling. So in many cases I wrote stories based on my own experience and everyday encounters.
However, as I couldn't do that now due to the pandemic, I thought I should create similar situations in a rehearsal studio. So my first intention was to create a realistic Yokohama street corner on stage, including some foreigners living there.
It's a fantastic situation to meet and work together with foreigners who are working in this area. In fact, I'll probably be able to write another play due to my experience in this rehearsal room.
Q: How did it work out opening rehearsals to the public?
T: It can be quite tiresome doing theatre rehearsals; repeating the same things again and again for ages with the same people. Now, though, I've found out it's very valuable to have outsiders watching those closed situations, and that it feels fresh to have their feedback. We were not able to chat together with the observers, but we exchanged messages using a message board.
Q: Did you discover anything about theatre creation through Covid-19?
T: I affirmed that the fundamental procedure of theatre creation would not change even under Covid-19.
There has probably been technical progress in some ways as a result, but we make theatre with people, we meet and discuss with people, and that is the same as before.
On the other hand, I think there are still lots of possibilities for change. I strongly believe theatre in Japan can be closer to local people and more useful for them just as many theatres in Europe are already being much more friendly to the locals.
So, we can still promote a reformation of theatre in Japan under Covid-19.
Q: How do you want to change theatre?
T: I think theatre, especially public theatres, need to keep a better balance in their programs. For example, more balance of gender, or content — artistic or entertainment, for seniors or youth … etc.
However, I also want theaters in Japan to have more individuality. Regarding artistic balance, we need to make a broader network among our theatres so they can think about the balance in a wider area. In that way, each theatre could develop its own individual and characteristic color more.
Q: Do you have any other ideas about the possibilities for theatre?
T: I think there are many traditions and rules in the theatre world that I wonder whether or not they are actually necessary, or whether we are just following the custom.
I started to wonder whether a director was essential in every play or not. For instance, in my 2018 "Octopus Monks Ritual of Forgetting," I didn't direct that. I almost said nothing to the actors in the rehearsal and there wasn't even a proper script.
This time, I am trying another approach with "Rainbow Town" because the text I wrote for the performance isn't a play script, it's more like a novel. So there weren't any lines, but it describes the characters' inner voices and their backgrounds. I know it's very hard to show that on stage, but we are trying to capture the color and atmosphere of this corner of the city.
Q: Your works seem to rely a lot on the audiences' imagination.
T: Since Covid-19 spread all over the world, I feel everything's become too analytical in society.
In my case, I have been good at using words since I started to write, but on many occasions I've perhaps been too analytical. But then, just when I started to feel uncomfortable about being clever and analytical, along came Covid-19. That has made many people's way of thinking much more analytical even though we are actually running about in confusion day after day with huge amounts of information and statistics.
I think that kind of analytical disease is deeply eroding our minds. So, I intentionally want to stimulate more of our sensitivity and imagination through my works.
Q: Do you have any future ambition?
I want to be an artistic director — it's a kind of joke. (ha-ha)
Anyway, I am curious about how theatre can be changed in the future. I think it has huge potential and there's no limit to theatre creation. It can be useful in a much wider way.