Double-staging debut for Simon Stephens' 'Heisenberg' in Japan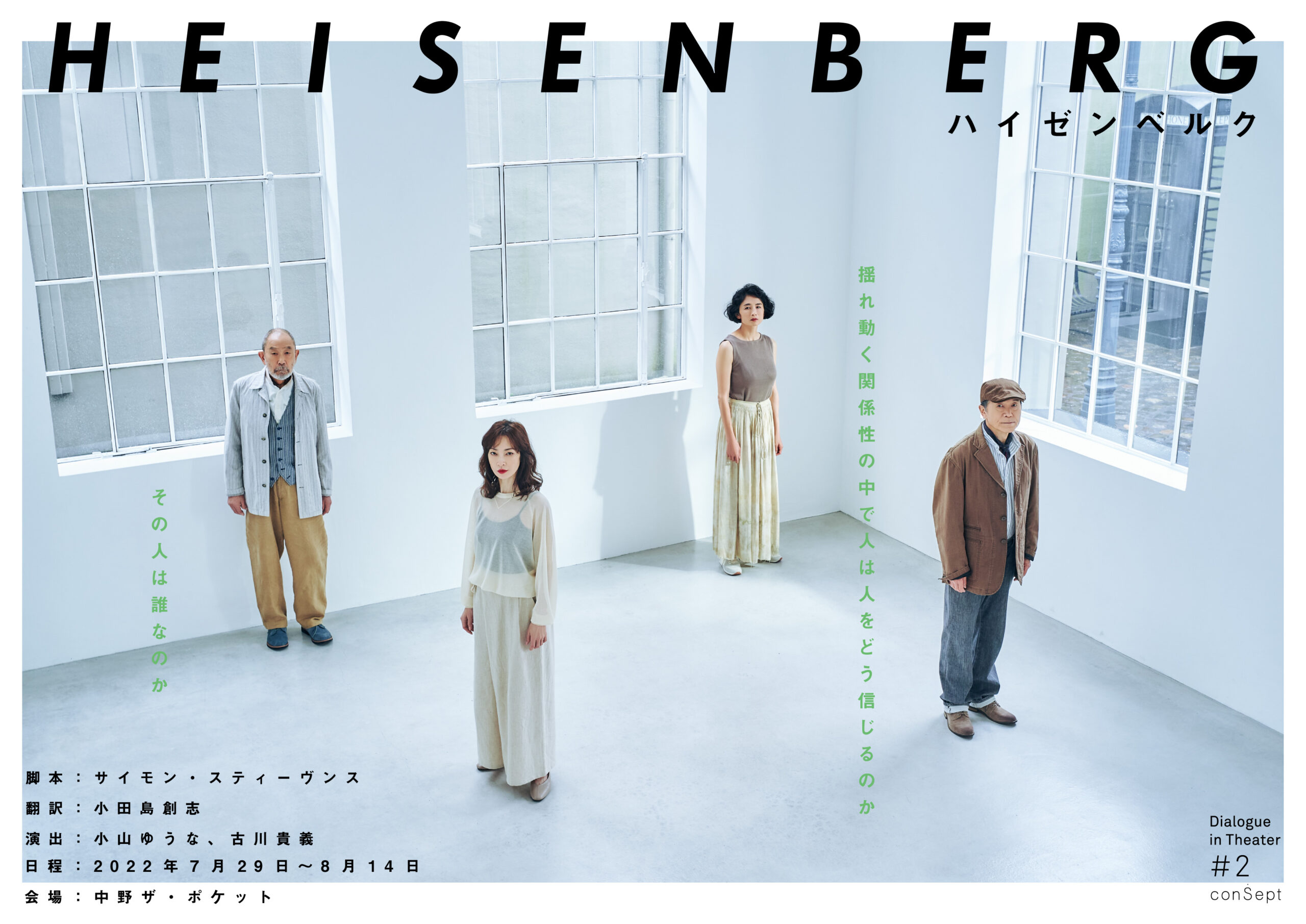 He's a treasure of today's British theatre, but the playwright Simon Stephens has lots of fans in Japan as well.
Now, his 2015 two-person play "Heisenberg," about the volatile relationship between a lonely old Irish butcher named Alex, and Georgie — a talkative and whimsical American woman in her 40s — is about to have its first performance in Japan.
The title "Heisenberg" is from the German physicist Werner Heisenberg (1901–76), who proposed what quantum mechanics refers to as the uncertainty principle.
In that spirit, the play sees the protagonists' normally humdrum lives take unpredictable turns due to the many age, gender and other uncertainties in this relationship that develops after Alex and Georgie meet following a minor accident at the busy St. Pancras railway station in central London. But that short and trivial conversation leads to whole new phases in their usually tedious lives.
This first performance of "Heisenberg" in Japan comes as a dual delight — thanks to a great proposal from the producer, Song Wonsup — that will see two different versions presented by both a male director, Takayoshi Furukawa, and a woman, Yuuna Koyama), working with two different casts.
As the producer explained at the show's press conference, he wanted to see how both male and female directors worked on this male-female dialogue play, and how they would approach its many nuances.
In Koyama's team, the popular musical actor and singer Tsunehiko Kamijo plays Alex, and the multi-talented actress and model Ryo plays Georgie. Meanwhile, in Furukawa's version, the veteran stage actor Mitsuru Hirata takes the role of Alex opposite the renowned actress Hijiri Kojima as Georgie.
Those four actors attended the press conference held in Shibuya and talked about how they would tackle this elusive conversational drama.
Ryo said: "Georgie says and also does lots of impulsive things, and such unpredictable things sow confusion among the audiences … but, I think, that's why they enjoy this play so much and are so thrilled."
Then Kojima added: "When I read this play, I wondered how much of what Georgie said was true — and I still don't know what's true and what isn't. However, I think that's OK because so many things in life are  uncertain now. The play has lots of blanks and uncertainties, and I think that's an interesting part of its appeal."   
Meanwhile, from the male cast, Kamijo recalled the Covid epidemic, saying: "When some of my theatre schedules were cancelled due to Covid, and I had to do quarantine in hospital, I got an early script of 'Heisenberg.' At that time it was my only and great pleasure to read it in those difficult days — and the more I read it, the more I thought it's a great play.
He explained: "At firstAlex and Georgie had a smart, sophisticated chat even though they didn't know each other. If I could have had such clever conversations since I was young, my life would have been more colourful (laugh). Anyway, I try to have those conversations realistically on stage."
Finally, Hirata commented that he first thought this play bearing the name of a physicist would be a difficult story about scientists. Then he said he found out it was about an older man and a younger woman who have been almost forgotten by the rest of the world.
"It reminded me how important it is that a person has a partner who listens to his or her voice," he said. "And first and foremost I don't think there are many plays dealing with the genuine love life of a 75-year-old man. After reading this, I've been empowered by this charming little play and through it I've felt again the power of drama."
"Heisenberg" opens at the cozy Nakano the Pocket theatre, a 5-min. walk from JR Nakano Station, on July 29 and runs till August 14.
The two different versions will be performed on different days.
For more information, visit: http://www.sonsept-s.com/heisenberg/   
Notes: It was announced that all performances of Team A (directed by Yuna Koyama, cast: Tsunehiko Kamijo & Ryo) were canceled due to the cast's health problem.